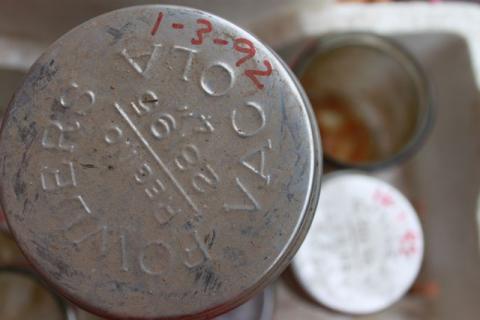 When I turned 40 last year I was given the ultimate present to preserve my youth. It was a Fowlers Vacola electric preserving pan.  Yesterday I was gifted some vintage bottles full with historical, and unidentifiable, fruit.  I have to compost the fruit and then use the jars for more bottled treats.
Fowlers Vacola is a brand and a lifestyle! You know it ...it's the glass jars of home preserved fruits, vegetables and meat (before someone got sick from Nan's 'head cheese' that was a bit iffy and the Powers the preserve declared that meat may need more thorough preservation techniques).
I'm excited because I have fond memories of preserving jars of fruit with my family, dad growing the excessive amount of fruit and vegetables or produce plucked from the roadside bounty.
I don't remember it being hard work but then again I was a child and didn't feel the preserving pressure upon me. Now with my own children and the need to feed I do feel some pressure and it is exhausting! Exhausting because I'm obsessed.
I don't like waste - food waste seems easy to avoid but it does take effort, knowledge and an in-depth understanding of what's in your fridge at any moment in time. This also extends to neighborhood fruit trees. Look around you for fruits of the 'hood and folk that are happy to let you pick them.
Once I've spotted the tree I knock on the door and ask, with my best country manners, if they use the fruit and if they would mind me picking some in return for a few jars of the produce or a chocolate cake. If they are not home, I leave a note in the mailbox with my phone number. That's it – it sometimes works, sometimes not.
I'm just now picking apricots from a friends' garden. They are away in Timor and their house sitters are generously (and patiently) letting me come every few days to re-pick before the grubs, brown spot and birds get them. It is just the most fabulous tree and the apricots are so very good but to be honest... I'm getting a bit sick of apricots. The novelty has worn off but I know I will have forgotten it in 6 months time and in the depths of winter when I reach into my cupboard to take a jar of this bottled sunshine and spoon it out, it will be like I'm serving up summer.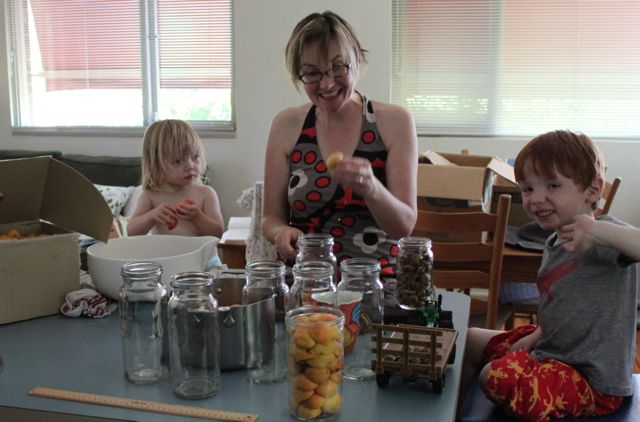 If you do have fruit that is excess to your needs rather than letting it falling on the ground and squashing into every part of your soul I recommend posting a message on the local notice board or Freecycle. I'm sure there are many folk around the world who would love to help out.
And it's not just about the fruit and the scrumping and the saving. It's about getting to know your neighbours. Last year we found a tree in a most immaculate garden, pruned to perfection and dripping with apricots. It was the home of an elderly Greek couple, Mr and Mrs Fratelli who have lived there for over 50 years. Even though the apricots are not there this year (apricots have a heavy crop once every two years) we regularly drop in to see them. The kids run around and we talk about gardens and health and family and the perfect spanakopita.
These are the moments worth preserving.