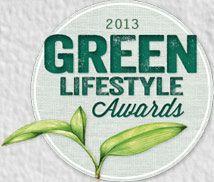 Can you believe it? GIY has just won it's first award for best info site in the online category of the Green Lifestyle Awards. It was a real treat to be recognised.
Not since the Tooma Gymkhana in 1980 have I won anything of note*. It is really rather exciting.
I went up to Sydney for the awards ceremony.  It was a lovely evening and I was really chuffed to be recognised in these awards.
GIY is a labour of love and I do love it but occasionally I wonder if it is worth my effort, if it's what people want, if it's got it's head screwed on the right. Getting this award makes me realise I am on the right track, even if it is one with lots of diversions and road-works.
Hoorah hoorah to the team at Green Lifestyle Mag for putting on a great event, and the excellent panel of judges that trudged through the 600-odd entries  to come up with a list of winners.
The Highly Commended in the Online category, and the 'Local Hero' was awarded to Gavin Webber from The Greening of Gavin. Check it out. It's a great read, and excellent find and one that has inspired me to try and make my own cheese.
Gavin Webber, creator and Head Gavin at The Greening of Gavin, springs a leek.
There were some other great winners that got past the judging panels' GBGD (Great Big Greenwash Detector). I like to know about these products because it can be a jungle navigating through the green claims when you are deciding where to spend your money. 
As for GIY ....on my marks, get set .... 
*I won the chocolate wheel. You know the type. You buy a ticket, they spin the wheel, if it lands on your number, you get to choose anything from the prize booty. Well, it landed on my number. I couldn't believe it. I climbed onto the back of the ute to select my prize. There were bikes with handlebar streamers, dolls (with all limbs and a head), toys in boxes, things made of plastic. tennis racquets, the Million Dollar Man, horse gear and an esky. For a girl who grew up on the farm ferreting and poking sticks into incinerating rubbish, this was all too much. I was overwhelmed with indecision. From the crowd below I heard dad calling out 'Get the esky. GET THE ESKY'. I love my dad to pieces. I got the esky. A strong, sturdy tartan one. 
30 years on, I think mum and dad still have the esky. It was always full of treats and the promise of adventure and bush picnics. This was probably my first truly sustainable, if not entirely suitable (or subtle), decision.