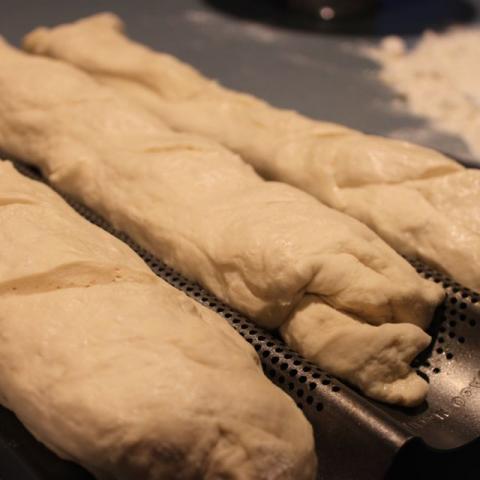 "You made this?" is usually the response when I turn up with a few crusty-on-the-outside, chewy-on-the-inside baguettes tucked under my wing. Truth is, I did make the bread, but it is almost easier than going to the shops. And people will be your friend with this bread. Really.
I was gifted this fabulous recipe from a great baker, scientist and general all-round wonder woman Nikki Grigg.
"The key to this bread is a tiny amount of yeast, a very long rising time and a very hot, humid oven. It requires 10 minutes of work just before bed (making the dough) and 10 more minutes preparation in the morning before it goes in the oven. It's much easier than going to the shops to buy bread. The recipe origin is Stephanie Alexander's "Sabrina's bread sticks", but now bears little resemblance to the original thanks to merciless natural selection rewarding lazy bread-making shortcuts."
Ingredients
1 kg plain bakers flour (look for high protein content)
1 teaspoon or even less of instant yeast
salt to taste (~2 teaspoons)
700 mL warm water
Method
Mix all ingredients until smooth and no dry patches of flour. Knead it if you like, but it's not essential. It's a pretty sticky dough, so not the easiest to knead. Shape into a ball and tip into an oiled basin [see note 1]. Slide it around a bit to get a coating of oil on the dough ball and basin sides. Leave to rise at room temperature, covered [see note 2]. If very warm room temperature, consider using less yeast.
Many, many hours later (at least 7 hours, and can be as many as 24 hours), preheat the oven to as hot as it will go (hopefully ~250°C). Create a humid oven environment by having a tray of water in the oven as it heats. While the oven warms, gently tip dough onto floured surface. Handle very lightly. Do the bare minimum to shape into either rolls (12 is a good number) or baguettes (2 or 3). Dust with flour, arrange on floured baking tray (I use a french baguette pan which makes 3 loaves) and slice patterns into the top (prevents bread from splitting as it bakes). Once oven is up to temperature, bake the bread until nicely browned and sounds hollow when tapped (~25 minutes for 12 rolls, 35-40 minutes for baguettes).
The rolls freeze well, and are revived successfully by defrosting in the microwave (and then crisping up in the conventional oven if you want the crust). If freezing then do so soon after they've cooled.
Variations:
1. Using a good sourdough instead of commercial instant yeast makes for a much more complex flavour and lovely colour, and it's satisfying to keep a living sourdough going in the fridge – but it is more work and behaves more unpredictably.
2. More interesting flours, grains etc are always nice additions. Freshly picked rosemary, crushed garlic and parmesan cheese. Another successful variation is to add sultanas and cinnamon.
3. Makes a good pizza dough, using a tad less water for easier handling.
4. If you like toast and want sliced bread, it can be cooked in a large bread tin.
Note 1: the dough will double in size so choose appropriate basin size to accommodate.
Note 2: the rise works best if covered with cling wrap, but a wet tea towel can work just as well and is easier on the environmentally-aware conscience. If the dough sticks to the tea towel once risen, re-moisten tea towel to separate it from the dough without disaster.